1.Saves Time: A portable handheld garment steamer allows you to quickly and easily remove wrinkles and freshen up your clothes without the need for an ironing board or a traditional iron. This can save you a lot of time and effort.
2.Convenient: Unlike traditional irons, which can be bulky and difficult to use, portable handheld garment steamers are compact and lightweight, making them easy to use and store.
3.Versatile: A handheld garment steamer can be used on a wide variety of fabrics, including delicate materials that can be easily damaged by a traditional iron.
4.Removes Odors: Steam is an effective way to remove odors from clothing, making a handheld garment steamer a great tool for freshening up clothes that have been stored for a long time or that have absorbed unpleasant smells.
5.Travel-Friendly: Portable handheld garment steamers are perfect for travel because they are small enough to pack in a suitcase and can be used to quickly freshen up clothes after they have been unpacked.
6.Eco-Friendly: Using a portable handheld garment steamer is a more environmentally friendly option than using a traditional iron, as it uses less energy and does not require the use of chemicals or detergents.
A portable handheld garment steamer is a versatile, convenient, and time-saving tool that can help you keep your clothes looking great and smelling fresh.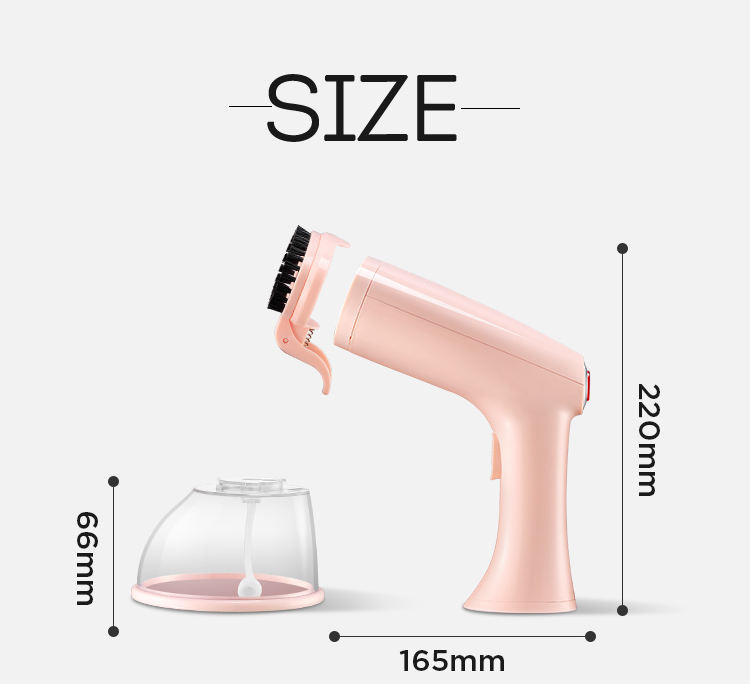 Voltage:220V-240v 50/60HZ
Power:1640W
Heating time:38s
Air output:25g/min
Working time:15mins
Water tank capacity:380ML
Packing:1pcs/color box , 20pc/ctn
Color box Size:23*14*17CM
Ctn size:72.5*49* 38cm
20GP:4000PCS
40HQ:10000PCS