A portable handheld iron steamer is a compact and convenient device used to remove wrinkles and creases from fabrics. It works by heating water to produce steam, which is then applied to the fabric to relax and smooth out wrinkles.
These steamers are typically smaller and more lightweight than traditional steam irons, making them ideal for travel or use in small spaces. They are also easier to use on delicate fabrics or items that are difficult to iron, such as curtains or upholstery.
China OEM Portable Handheld Iron Steamer factory
come in a variety of designs and sizes, with different features such as adjustable steam settings, removable water tanks, and attachments for different fabric types. Some models also offer additional features such as vertical steaming or sanitizing capabilities.
Using a portable handheld iron steamer is straightforward, as it involves filling the water reservoir, heating up the device, and applying steam to the fabric. They are also generally safer to use than traditional irons since they don't require direct contact with the fabric.
Here are some tips to help you extend the life of your portable handheld iron steamer:
Use distilled water: Using tap water or hard water can cause mineral buildup in your iron steamer, leading to clogs and damage over time. Using distilled water can help prevent this issue.
Clean regularly: Regular cleaning is essential to keep your iron steamer working correctly. Empty the water reservoir after each use and clean the steamer's heating element as needed.
Store properly: Make sure to store your iron steamer in a dry place, away from direct sunlight or heat sources. Avoid wrapping the cord around the unit, which can cause damage to the wires.
Use with care: Avoid dropping your iron steamer or using excessive force when handling it. Also, don't let the steamer sit idle for long periods, as this can cause the heating element to overheat and damage the unit.
Check for damage: Regularly check your iron steamer for any signs of damage, including cracks, leaks, or other issues. If you notice any problems, stop using the unit and have it repaired or replaced as needed.
By following these tips, you can help ensure that your portable handheld iron steamer lasts for as long as possible, providing you with reliable and convenient use for all your ironing needs.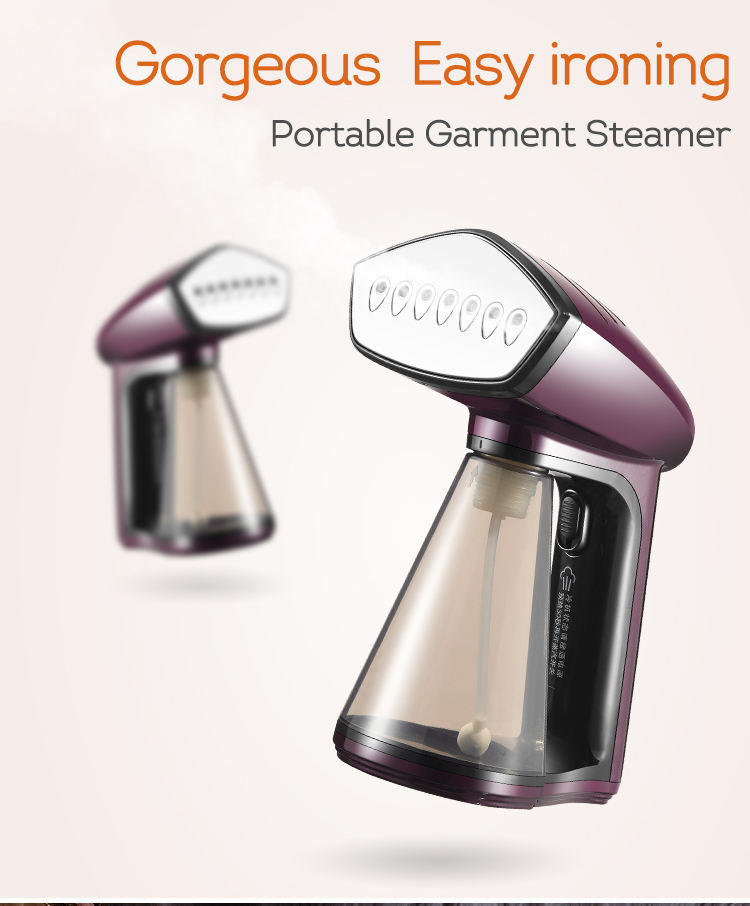 Voltage:220V-240V 50/60Hz
Power:1640W
Heating time:38s
Air output:25g/min
Working time:10mins
Water tank capacity:260ML
Packing:1pcs/color box , 16pc/ctn
Color box Size:24.5*13.5*26.5CM
Ctn size:57.5*51*56cm
20GP:2600PCS
40HQ:6400PCS