Gentle on fabrics: Clothes steamers are gentle on fabrics and can be used on delicate fabrics like silk and wool without damaging them. This makes them a great option for those who are concerned about preserving the quality and integrity of their clothes.
Versatile: Clothes steamers can be used for a variety of purposes beyond de-wrinkling clothes. They can also be used to freshen up and deodorize fabrics, sanitize household surfaces, and even clean upholstery.
When choosing a clothes steamer, consider the following factors:
Size and portability: Clothes steamers come in a range of sizes, from handheld to larger, standing models. If you plan to travel with your steamer or have limited storage space, a handheld steamer may be the best option.
Water tank capacity: Clothes steamers use water to produce steam, so it's important to consider the size of the water tank when choosing a steamer. A larger water tank will typically produce more steam and require fewer refills, but may also make the steamer heavier and less portable.
Wattage: The wattage of a clothes steamer will determine how quickly it heats up and how much steam it produces. Higher wattage models will typically heat up faster and produce more steam, but may also consume more electricity.
Hang clothes properly: When using a clothes steamer, it's important to hang your clothes properly to ensure the steam can penetrate all areas of the fabric. Use hangers or a clothesline to hang your clothes, making sure there is enough space between items to allow the steam to circulate.
Use distilled water: Using distilled water in your clothes steamer can help prolong its lifespan and prevent mineral buildup that can clog the steamer's vents.
Test on a small area first: Before using your clothes steamer on a new fabric, it's a good idea to test it on a small, inconspicuous area first to ensure it doesn't damage or discolor the fabric.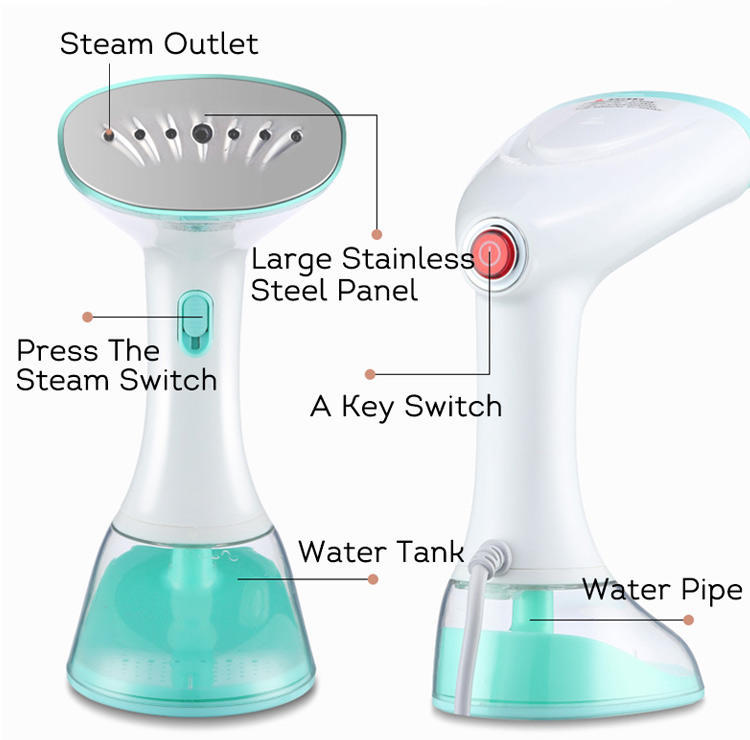 Voltage:220V-240V 50/60Hz
Power:1640W
Heating time:38s
Air output:25g/min
Working time:15mins
Water tank capacity:380ML
Packing:1pcs/color box , 20pc/ctn
Color box Size:23*14*17CM
Ctn size:72.5*49*38cm/20GP/4000PCS/40HQ/10000PCS