Portable handheld iron steamers
offer a convenient and efficient way to remove wrinkles and refresh garments without the need for traditional ironing boards. These compact devices have revolutionized garment care with their innovative features and user-friendly design.
One of the key advantages of portable handheld iron steamers is their portability. These devices are lightweight and compact, making them easy to carry and store. Whether you're traveling or simply need to quickly freshen up your clothes, a portable handheld iron steamer can be a lifesaver. Its small size allows for easy maneuverability and access to hard-to-reach areas, such as collars, cuffs, and seams.
Furthermore, portable handheld iron steamers offer quick and efficient wrinkle removal. Unlike traditional irons, which require a flat surface and precise movements, these steamers can be used in an upright position. The powerful steam emitted from the device penetrates the fabric, relaxing the fibers and releasing wrinkles. This saves both time and effort, especially when dealing with delicate or large garments.
Additionally, portable handheld iron steamers offer benefits beyond wrinkle removal. The steam generated by these devices also helps to freshen up garments, eliminating odors and reducing the need for frequent dry cleaning. The high temperature of the steam can effectively kill bacteria and allergens, making it a hygienic choice for individuals with sensitive skin or allergies.
Moreover, portable handheld iron steamers are easy to use and require minimal setup. They typically have a straightforward operation with simple controls, such as power buttons and steam activation switches. Most models also have fast heat-up times, allowing you to start steaming within seconds. The water reservoirs are easily refillable, and some devices even have features like auto-shutoff for safety and convenience.From a professional standpoint, portable handheld iron steamers have become an essential tool for fashion designers, stylists, and photographers. These devices provide quick touch-ups and ensure garments look their best during fashion shoots, runway shows, and client fittings. They are also a popular choice for garment retailers, allowing them to efficiently steam clothing before display or shipping.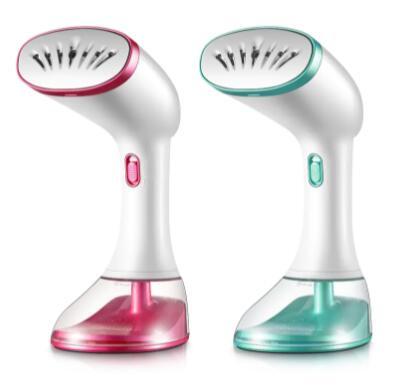 Voltage:220V-240v 50/60HZ
Power:1640W
Heating time:38s
Air output:25g/min
Working time:15mins
Water tank capacity:380ML
Packing:1pcs/color box , 20pc/ctn
Color box Size:23*14*17CM
Ctn size:72.5*49* 38cm
20GP:4000PCS
40HQ:10000PCS